Tanya Vik and Divinity 3
2009 Grand Prix CDS HOY 4th, USDF Region 7 3rd place
2009 Grand Prix Champion April Murieta Show
2007 National I-1 Championships, Gladstone, NJ
Developing Rider List for the USET 2008 and 2009
Highlights:
2005 USDF Region 7 I-1 Champion - 69.625%
2006 DG Bar HP PSG Champion - 69.667%
2006 DG Bar HP I-1 Reserve Champion - 68.583%
2006 Pebble Beach CDI PSG Reserve Champion - 69.250%
2006 Pebble Beach CDI I-1 3rd Place - 67.3%
2006 Pebble Beach Open Show I-1 Highpoint - 71.75%
2007 USDF Region 7 I-1 Freestyle Champion
2007 CDS HOY Reserve Champion I-1
Tanya Vik and Frederik
2007 USDF Region 7 1st Level Champion, 71%
2007 Woodside Horsepark 78% at first show of season!!
Champion Open Futurity at 2006 CDS Annual Show, 71%
Tanya and ?
Do you have a special horse to fill this space?
Tanya would love to turn your horse into a champion!!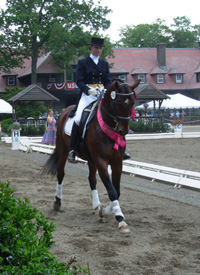 Tanya & Divinity 3 at the Gladstone intermediare I Championships 2007
About Tanya Vik: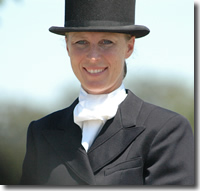 Possessing a lifelong passion for horses, Tanya Vik has been teaching and training for over 20 years. She has been an active competitor, earning a spot on the USEF Developing rider list in 2008 and 2009 as well as competing at the I-1 National Championships in Gladstone, New Jersey. On the local level she has qualified and competed many horses in CDS and USDF championships from training level to Grand Prix. In that time she has been Champion and Reserve champion numerous times on many different horses. Tanya's main horse at this time is Divinity 3 (Vinnie). She purchased him in 2002 and has been training him up the levels. He is a wonderful horse with an incredible work ethic. He has a great show record with too many awesome moments to list (see show results), and is now competing at Grand Prix. In the wings is Frederik (Frankie), owned by Susan Jane Sutton. He shows great promise and is already a proven competitor winning the CDS Futurity in 2006 and USDF Region 7 1st Level Championship in 2007. Watch for him in 2010.
With teaching being her second passion Tanya loves training riders and being a part of their success. Whether it is helping them achieving riding goals in the home arena or on the competitive scene, it is all very rewarding. Currently students are competing at all levels both locally and at State and Regional Championships. 2009 included Champion and Reserve Champion placings at the RAAC and impressive placings at the year end Championships in both 1st Level and PSG.
Tanya credits much of her success to the wonderful training and mentoring help she has received over the years. Sandy Howard, Lilo Fore, David Hunt, and Alfredo Hernandez are the primary people Tanya currently trains with. Their help is invaluable and Tanya continues to actively pursue continued education.
Sponsorship:
Looking for a great sponsor with Olympic aspirations who wants to be an integral part of the process. Detailed sponsorship packages available upon request. Tanya is at a point in her career where sponsorship is becoming necessary to continue the pursuit of national and international competition. If you want to be part of a winning team, and/or you have a talented horse looking for the right partner, please contact Tanya about the possibilities!!