Tanya and Horses:
Possessing a lifelong passion for horses, Tanya Vik has been teaching and training for 25+ years. She has been an active competitor, earning a spot on the USEF Developing rider list in 2008 and 2009 as well as competing at the I-1 National Championships in Gladstone, New Jersey. On the local level she has qualified and competed many horses in CDS and USDF championships from training level to Grand Prix. In that time she has been Champion and Reserve champion numerous times on many different horses.
With teaching being her second passion Tanya loves training riders and being a part of their success. Whether it is helping them achieve riding goals in the home arena or on the competitive scene, she finds it very rewarding. Currently students are competing at all levels both locally and at the State and Regional Championship levels
Tanya credits much of her success to the wonderful training and mentoring help she has received over the years. The late Sandy Howard, Lilo Fore, David Hunt, Andrew Murphy, and Mary Wanless are the primary people Tanya currently trains and has trained with. Their help has been invaluable and Tanya continues to actively pursue continued education.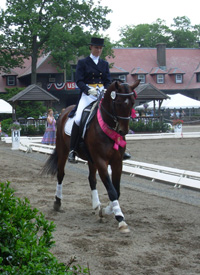 Tanya & Divinity 3 at the Gladstone Intermediare I Championships
About Tanya Vik: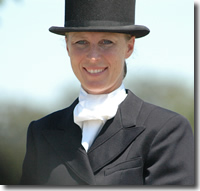 Tanya was born and raised in San Francisco. With an early passion for horses (shared by no one in her family), Tanya soon found her way to them despite the odds! She had her first horse by 12 and spent her formative horse years in the Half Moon Bay Area. It took 3 buses and walking a mile to get to the barn but Tanya was determined! With money she earned from stall cleaning and odd jobs she joined Pony Club and started competing in 3-day eventing as well as dressage. Her first "real" dressage partner was a quarter horse/appaloosa cross who she trained thru PSG. While not necessarily the most talented partner, she credits him for teaching her a lot. Tanya started teaching and training in her early 20's while also pursuing a degree in Small Business. In her 30's she moved to the North Bay, moving her business to the Petaluma area. In her late 30's while competing in the FEI levels and earning a spot on the Developing Rider list for the USET, Tanya met Larry and a few years later had son Chase. Tanya and Larry have a 40+ acre ranch in Petaluma, CA where they live with their dogs, cats, cows, and retired horses.